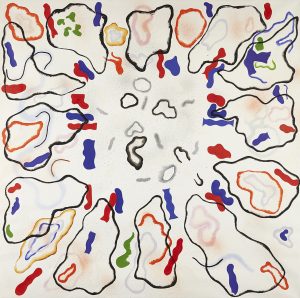 Anthony Benjamin Overlayers for Meddlers oil on canvas 1965  155 x 155cm
To find out more about Broadbent or enquire about available works please email us at :
angus@broadbentgallery.com
or call: +44 203 617 1611
2023/4 Upcoming Events
British Art Fair
Saatchi Gallery
28 September — 1 October 2023
London Art Fair 2024 
Business Design Centre
17th January – 21 January 2024
Email us for tickets and fair enquiries

Broadbent is a fine art dealer and consultancy, owned and run by Angus Broadbent.
Angus has over 20 years of experience in the art world as gallery owner, art consultant, judge and critic.
Broadbent is based in Central London and serves a global client base of both private and corporate collectors.
We also works extensively with architects and interior designers to commission and source work for their clients.